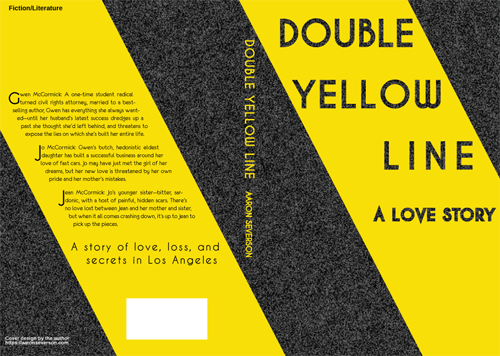 Gwen McCormick: A one-time campus radical turned civil rights attorney, married to a best-selling author, Gwen is everything she always wanted to be — until her husband's latest success dredges up secrets she thought she'd left behind, and threatens to expose the lies on which she's built her entire life.
Jo McCormick: Gwen's butch, hedonistic eldest daughter, Jo has built a successful business around her love of fast cars. She may have just met the girl of her dreams, but her new love is about to be threatened by her own pride and her mother's mistakes.
Jean McCormick: Jo's younger sister, Jean is a 21-year-old film student — sardonic, cynical, bitter, with a host of painful, hidden scars. There's no love lost between Jean and her mother and sister, but when it all comes crashing down, it's up to her to pick up the pieces.
A story of love, loss, and secrets in Los Angeles.
---
Author's Note
This was my first novel. The original version of it was written while I was still a teenager and was, to put it charitably, a royal mess. I rewrote it completely some years later. I am still not satisfied with it and a third rewrite is on my list of things to do. It has NOT been published. (Why does this manuscript have a cover?)
The cover image uses the fonts Caviar Dreams, which is © 2009 Lauren Thompson (Nymphont); euroference, which is © 2000 Tobias B. Koehler; and the Liberation Fonts (version 2.00.1 or later), which are © 2012 Red Hat, Inc., used under the SIL Open Font License, Version 1.1. Liberation is a trademark of Red Hat, Inc. registered in U.S. Patent and Trademark Office and certain other jurisdictions.
Important Legal Notice
The prose stories and novels presented or excerpted on this website may contain mature themes and/or adult content (including, but not limited to, depictions or discussions of sex, sexuality, and drug use). By accessing the stories or excerpts, you certify that you are of legal age to view such material in your area and that your access to such material does not violate any local law, ordinance, regulation, or company policy. The author accepts no responsibility or liability whatsoever for access to or use of the material on this website in violation of local laws, ordinances, regulations, or company policies.
These novels are works of fiction. The characters, events, and situations of the plots are inventions of the author and all the names, places, settings, and organizations depicted are either entirely fictitious or are used fictitiously. Any resemblance to actual events is purely coincidental. Any textual reference or allusion to any real person, business, institution, organization, brand name, or product is in no way intended to suggest or imply that the work is anything other than completely fictional; to disparage any actual person or entity; or to imply that the work has been endorsed, approved, or licensed by any such person or entity.
The novel text and excerpts thereof are copyright © Aaron Severson. All rights reserved.